Bed Bug Extermination in Harveysburg
Reliable, Effective Bed Bug Treatments for Your Home
Rid Your Home of Bed Bugs With Bed Bug Extermination
Not only are bed bugs nasty intruders that can cause health issues and problems within your home, they're known for being quite difficult to get rid of. All American Termite & Pest Control in Harveysburg offers top-of-the-line bed bug extermination. Now, you no longer have to worry about them coming back time and again because our services will rid your home of bed bugs the first time around. If you're struggling with a bed bug infestation in your home, reach out to All American Termite & Pest Control for pest control services today!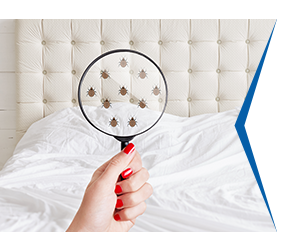 Signs You Have Bed Bugs in Your Harveysburg Home:
Visible bed bug shells or molted skins around your home

Bugs crawling around your home or bedroom

Blood stains on your sheets or pillowcases that appear as rusty marks

Small fecal spots around your home, especially in places where bed bugs hide

A strong, musty odor around your bedroom

Red, itchy bites that appear as red welts on your body
Don't Lose Another Night's Sleep Because of Bed Bugs
Because bed bugs' favorite place to nest is in your bed, an infestation can make it difficult to get a restful sleep. Bed bugs are nocturnal, which means they become most active while you're asleep. You may feel itchy or uncomfortable while laying in bed, which is a good indication that you may have a bed bug problem. All American Termite & Pest Control can provide you with effective bed bug extermination, so you don't have to worry about losing sleep due to these nasty bugs again.
If you suspect you may have a bed bug infestation at your home in Harveysburg, reach out to our experts today.
Safe, Effective, and Comprehensive Treatments
At All American Termite & Pest Control, we believe in getting the job done right the first time around. Our bed bug exterminations provide you with comprehensive services, including a detailed preparation plan, a custom treatment schedule based on your needs, a reinfestation avoidance plan, and protection plans for our quarterly service customers.
Our industry-leading equipment and practicing will help rid your home of pests in a safe, effective way. At All American Termite & Pest Control, we won't consider any job complete until we're sure that the pests will not return. Contact us in Harveysburg today for bed bug extermination.